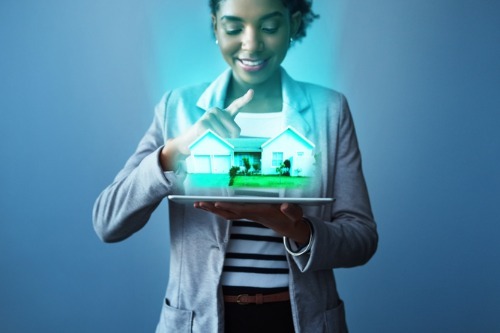 With investors stuck at home, an innovative tool has emerged from the U.S. Real Estate space: I-Buying. I-Buying is driven by companies able to make immediate offers on properties via tech platforms. It's a process that simplifies the complexities of homebuying and allows an I-Buyer to make purchases at significant scale.
One top investor is taking these techniques north of the border. AJ Hazzi, founder of Vantage West Realty, has developed a new I-Buying strategy, the first of its kind in Canada. The strategy has space for investor partnership, allowing them to invest in a strategy designed to bring peace of mind along with consistent ROI. At the Canadian Real Estate Wealth Investor Forum on August 13th, he'll be explaining just how investors can access this strategy.
The new offering is called Cash Offer LP, a limited partnership for accredited investors to take part in a diversified portfolio of properties bought with cash at distress sale prices. These properties are purchased at deep discounts, almost wholesale price, and turned into Rent to Own (RTO) operations by Hazzi and his team. The RTO deals are made with tenants with good down payments right on the verge of obtaining a mortgage.
"We're able to create these really nice margins," Hazzi says. "And we can limit our downside for our investors because we've got tenants in there that are caring for the property, like a property owner would. They're paying for all the repairs and maintenance. There's very little vacancy risk, too, because these folks have put large cash non refundable down payments into the property. We get great cash flow and we get a very profitable exit from these properties on two to three year time horizons."
It's an arrangement Hazzi has been making one on one with investors for over a decade. This offering is a way to scale up that strategy and further diversify the risk and by adding the I-buyer piece, give investors access to wholesale pricing on property. The targeted return for investors, he says, is close to 20 per cent. And we have been distributing dividends quarterly right through the pandemic
Vantage West founder AJ Hazzi brings his financing in terms of a low interest revolving line of credit that offers partners a leveraged return without asking them to borrow any money.
As of now, the suite of properties is entirely in the interior of B.C. but Hazzi is looking at other markets at a similar point in their real estate cycle, that have come through a price adjustment but boast economic fundamentals that will drive recovery and growth in value.
Hazzi says the strategy is as "recession proof as a real estate strategy can be." It allows access to a high reward, low risk strategy without a huge outlay of labour to go with the cash investment. Unlike some U.S. I-Buying strategies, Hazzi isn't focusing on riskier short-term flips of the properties. Rather, he's focused on driving consistent returns through dependable tenants. Investors are partnering with Hazzi, who will source and structure deals and shepherd them through to completion.
This allows you to keep your time, partner with an award winning investor, invest into an existing portfolio that's already in positive cash flow and have as close to a recession proof strategy as you can execute in this market
That deal, he says, is all the more attractive for investors because of the unique circumstances we find ourselves in around the COVID-19 pandemic. In an age of uncertainty, the strategy is built to drive returns in the safest manner possible. It's ideal, Hazzi says, for investors looking to pivot to a more conservative portfolio without giving up the double digit returns they've sought in the past..
While this strategy is available only to accredited investors, Hazzi says that he plans to execute a North America wide strategy through an offering memorandum that will be accessible to retail investors as well.
At the investor forum, Hazzi will break down some of the intricacies of his strategy and explain the mechanics behind accessing them.
"I hope that attendees learn what the most effective strategy in the market is right now," Hazzi says. "If it inspires them to go out and try to replicate what we're doing it would be great. If they want someone to do it for them who's been doing this for the better part of two decades, if they're looking for a great joint venture partner to be a good steward of their capital then obviously we'd love for them to take action, reach out, and potentially become one of our partners."
To hear from AJ Hazzi and other thought leaders in the real estate investment space register for the Canadian Real Estate Wealth Investor Forum for free here.
Are you looking to invest in property? If you like, we can get one of our mortgage experts to tell you exactly how much you can afford to borrow, which is the best mortgage for you or how much they could save you right now if you have an existing mortgage. Click here to get help choosing the best mortgage rate.